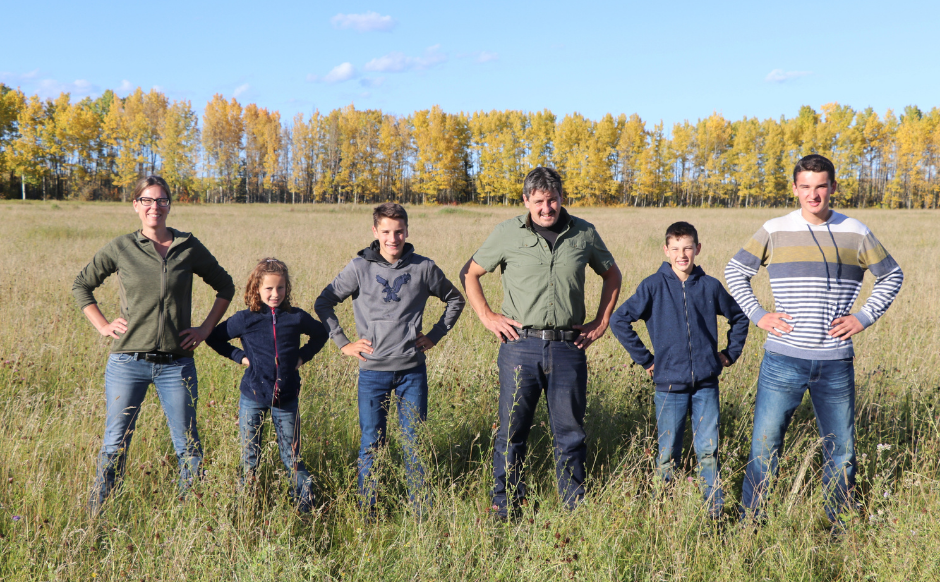 Weder Family
BC Cattle Rancher
The Weder family owns and operates Venator Ranches Ltd in the Peace River region of BC. Their ranch is over 14,164 hectares (35,000 acres) and is home to 1,800 beef cows, 400 bison cows, 800 beef yearlings and 400 bison yearlings. With that much land, and so many animals to care for, Christoph, Erika and their children Pasco, Nero, Oro and Luna are always kept busy doing what they love.
Read our interview with them below:
Tell us about your ranch and how you raise your bison and beef cattle.
Christoph Weder: Our approach to ranching is to use rotational grazing systems. Ranching and grass-based agriculture allows us to not only produce a healthy protein in the form of grass fattened bison and beef it also allows biodiversity to flourish. We take the resources of soil, sun and water and create a renewable food source for our livestock.
We spend countless hours every day ensuring our animals are healthy, free from stress and well cared for. Our veterinarian is a key resource for us, and they help us to take a proactive approach to keeping our animals healthy.
What are some of the ways that you ensure your products are safe and healthy for consumers?
CW: It is important that our customers have access to safe and nutritious food. Grass fattened bison and beef is loaded with flavor and healthy fats. It is perfectly designed for what human bodies need to grow and maintain healthy immune systems.
We are certified under the Verified Beef program. This program helps us ensure that we are transparent, and accountable to high standards of sustainable beef production, including food safety. There are third party audits that check our records and help us to continue to identify ways to improve.
Why is it important to you that the environment is respected?
CW: Without a healthy environment we have nothing. We only have one planet, so we must care for our soil, our water, our forests and all the creatures that call these places home. On our ranch, we set aside habitat and forested areas, fence off wetlands and riparian areas and practice rotational grazing. Our ranch has completed an Environmental Farm Plan, and we were the 2012 recipients of the Environmental Stewardship Award from the Canadian Cattlemen's Association.
One of the most important goals set for our ranch, is that it works and runs in harmony with our environment and with nature. That means our land use practices are built around long-term sustainability. When it's our turn to pass the ranch over to the next generation, it will be in better shape than when we started managing it; after all, we are just borrowing the land from the future generations.