Van Keulen Family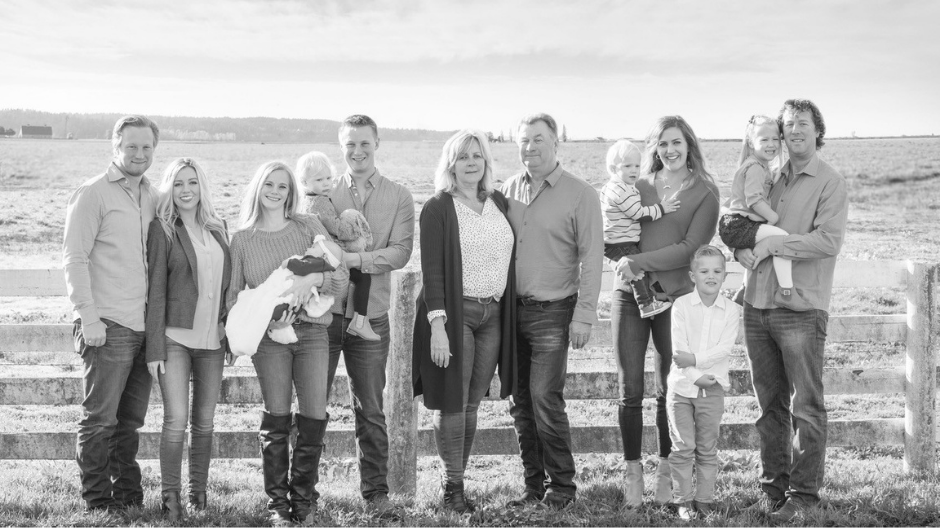 BC Dairy Farmer
The Van Keulen family has been dairy farming in Surrey since 1955. Donia Farms is a third-generation farm with about 1000 acres of land and around 1000 cows. Stan and Patricia Van Keulen, along with their 3 sons (Jon, David, Nico) and their families are all involved in keeping the farm strong and sustainable.
Learn all about their approach to dairy farming in our Q&A with David:
We Heart Local BC: What do you enjoy most about farming?
David Van Keulen: For our family, the most important thing about farming is the combination of caring for our cows, and the pleasure of feeding people safe, affordable food. Offering a healthy product is important to us because good food is essential for everyone. Not only does it nourish our bodies, but it is a source of joy for people as well. Giving people access to this is extremely rewarding.
WHL: How do you ensure that your cows are healthy and well-cared for?
DVK: Our cows are the most important assets on our farm. Creating a comfortable and relaxing environment for our cows is what we focus on 365 days a year.
It starts with good nutrition for all of our animals. Donia cows are fed a forage-based diet of mostly grasses supplemented with vitamins and minerals. We work with our herd nutritionist to make sure that we are offering our cows a balanced diet that matches their exact caloric needs and promotes good health.
We also design and build barns that promote good air flow and offer climate control. Our cows have free access throughout the day to fresh water and food, as well as a 'patio' where they can enjoy the sun. They also have beds made of clean, dry sand that they rest on. We constantly monitor and look for ways to improve our animal care with new technology that maximizes their health and comfort. Finding a balance between modern farming technology and traditional values allows us to give the best care to our cows and deliver the best products to our customers.
WHL: What are the actions you take on your farm to ensure you are managing natural resources (e.g. air, soil, water) responsibly?
DVK: Our family is committed to using resources like water and fertilizer responsibly. For example, the manure that our cows produce is used on our land to nourish the soil. The nutrients help to grow nutritious food for the animals to eat – everything comes full-circle.
Donia farms is a 3rd generation dairy farm where we live and work with our family. Being respectful to the environment will ensure that the same land that we farm today will be productive for the 4th generation, and beyond. We have a deep desire to ensure that we can farm our land for another 100+ years, by choosing wise, sustainable practices.
To learn more about Donia Farms, visit www.doniafarms.ca.