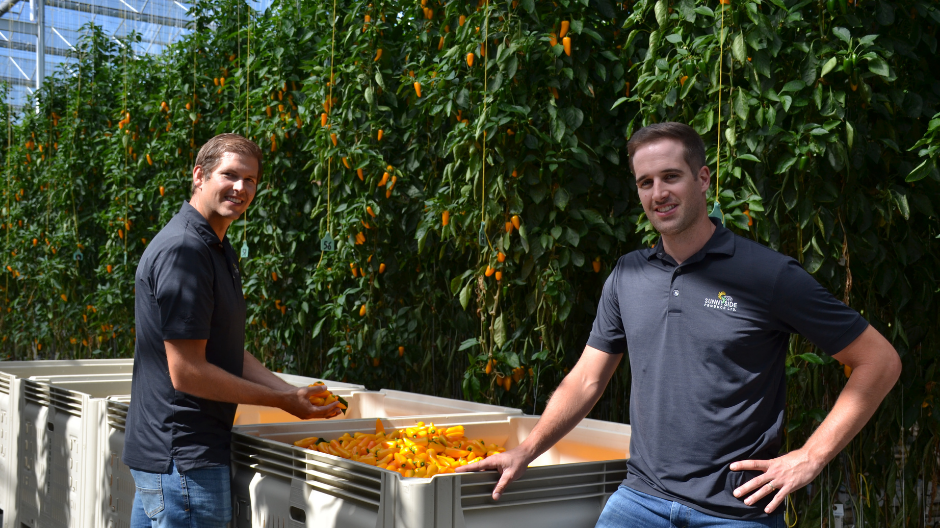 Sunnyside Produce
BC Greenhouse Grower
Sunnyside Produce is a family run greenhouse with several locations in the Lower Mainland. They grow 84 acres of bell peppers, mini peppers and other small specially peppers. Read our conversation with Corne Moerman to learn more about how they produce safe, healthy food while minimizing their impact on the environment.
Tell us about your family farm.
We have many family members involved in our greenhouse operation. My dad (Jos) and his cousin (Bram) started farming in Abbotsford in 1996, after immigrating from the Netherlands. In 2008, Bram's son (Paul) and I both joined the farm and we expanded to Surrey and Delta. I am proud to be a fourth-generation farmer, the second generation farming in Canada. The goal is for Paul and I to take over from our fathers and continue to run a successful business into the future.
What kind of special technology do you use in the greenhouse?
There are huge advantages to growing in a greenhouse. It allows us to control our growing conditions such as heat, water and pest management. We use high efficiency natural gas boilers for heat, and we can capture the C02 and use it in the greenhouse to help the plants grow. We can produce food very efficiently. In fact, we can grow 10 to 20 times more in a greenhouse than an outside field crop.
What actions do you take in your greenhouse to care for the environment?
One of the things we are most proud of is how we can recycle and re-use water. We collect all the drain water from our drip irrigation system so that it can be re-used and none of it goes to waste. As well, we collect rainwater from the roof of the greenhouse and store it in a big pond to use as we need it. By using the rainwater storage, we only need to use city water for a few months in the summer.
How do you ensure that the food you produce is safe?
Producing healthy, safe food for consumers is a responsibility we take very seriously and one that is never going away. We are certified through the CanadaGAP food safety program. It helps us to make sure that our planting, harvesting, and packaging procedures meet the highest standards. We are proud to grow fresh, nutritious food for B.C. families.