Froese Family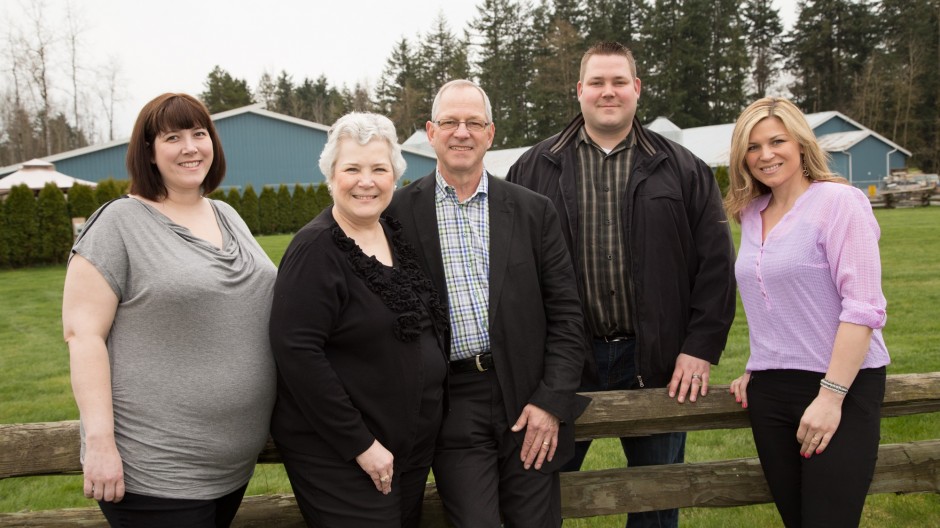 BC Poultry Farmer
Jack and Debbie Froese decided to build their lives in the place they've always called home, the beautiful Fraser Valley. In 1979, they purchased their family farm in Langley where they nurtured a successful business and raised their family. Today, JD Farms Specialty Turkey has grown to include a wholesale business, the retail store/deli, and a bistro.
Jack and Debbie have a son, Jason, and two daughters, Jenny and Marilyn. "My parents have given us a great opportunity," says Jason. While Jenny is focusing on her young family and Marilyn on her career as a 911 Dispatcher for Vancouver, they leave the farm in the hands of Jason, the General Manager of the farm. However, they always pull together when things get busy. Jack and Debbie say, "We are proud that our children have taken over the farm and are growing the turkeys the same way we did".
Turkeys from JD Farms are fed a natural diet of grain, vitamins and minerals without any medications or animal by-products. Their turkeys are raised in spacious, well-ventilated barns with free access to fresh water and a constant supply of fresh feed. Each turkey must pass a stringent certification that ensures customers receive only the very best. The retail store/deli and bistro offers a wide variety of healthy, homemade turkey sausages, turkey deli meats, potpies and soups all made from JD Farms' own recipes using only JD Farms Certified Specialty Turkey meat.
JD Farms is a proud member of Canadian Federation of Independent Grocers, Greater Langley Chamber of Commerce, Aldergrove Rotary Club and the Aldergrove Business Association. Year-round they support a variety of organizations such as Langley's Salvation Army Gateway of Hope, the Alzheimer Association's "Walk to Remember", the Aldergrove Agricultural Fair, the "BBQ on the Bypass," as well as hosting their own "JD Farms Fall Festival" – a fundraiser for the Terry Fox Foundation.
One of Jason's first memories is helping his dad out in the barns, a legacy now being passed down to his own children. The future looks promising for this family run farm as they embrace their third generation of turkey growers.