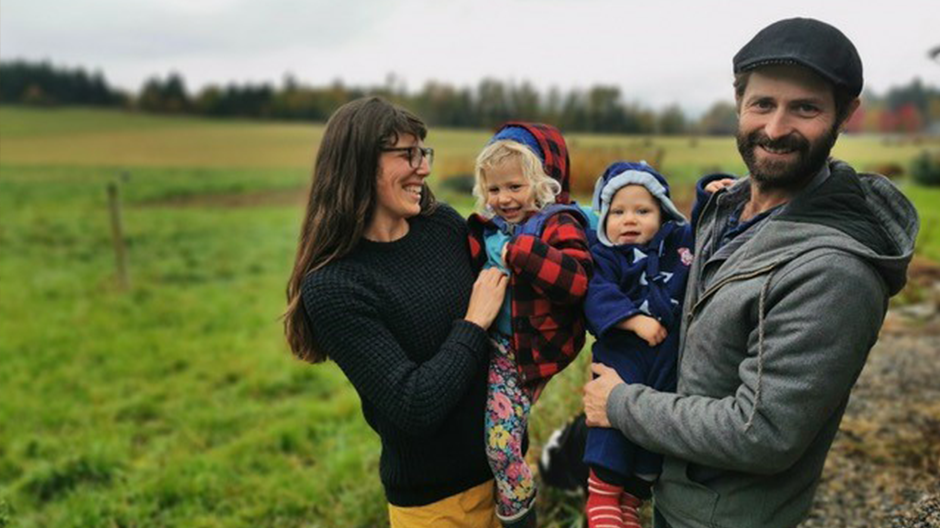 Fresh Valley Farms
BC Poultry Farmer
Steve Meggait and Annelise Grube-Cavers run Fresh Valley Farms in Armstrong, BC. They farm on two quarter sections of land (about 320 acres or 130 hectares), most of which is forested. Fresh Valley Farms was established in its current form in 2013, but Steve's family has lived on the property for many years. In fact, Steve is a fourth-generation farmer, and Annelise is a third-generation farmer who joined the farm in 2015.
Read about Steve and Annelise's commitment to caring for their animals and their surrounding environment below:
We Heart Local BC: What kind of products do you grow and raise at Fresh Valley Farm?
Steve and Annelise: We are a certified organic farm that focuses on pasture raised meats (pork, chicken, turkey, and beef). In addition to our animals, we grow certified organic garlic, raspberries, and additional forage for the pigs, specifically. All our products are sold direct to consumers through our website and at farmers markets.
WHL: How do you ensure that the food you produce is safe and high quality?
S&A: We take accountability to our customers very seriously and know that we need to maintain the highest quality to keep them coming back. For us it is not only a question of responsibility, but also of pride in terms of what we produce.
On our farm, we have a licensed abattoir for our poultry. It is fully inspected (an inspector is present whenever the abattoir is operating), and our records are audited to ensure that we are following the necessary regulations. Additionally, we have been working with Food Processing Skills Canada as a part of the On-Farm Food Safety program to continue upgrading our skills.
WHL: What actions do you take to keep your animals happy and healthy?
S&A:Raising animals on pasture is all about animal welfare. Having animals constantly outside, with appropriately provided shelter, means that they can exercise their natural behaviours, whether that means rolling in dust to keep flies off, moving in a herd, rooting in the ground, or pecking and scratching at the earth.
We are also passionate about using technology to care for our animals. For example, Steve has created innovative pasture housing for our poultry with built-in automatic feeders and waterers that mean animals stay healthy while they are able to explore, forage, and exhibit natural behaviours.
WHL: Why is caring for the environment important to you?
S&A: The environment where we farm is not only where we work, but also where we live. Caring for the land and water and being good stewards on this land is our mission and what we set out to do every season.
In 2018, we completed an Environmental Farm Plan which helped us to increase the sustainability of our pasture rotations, prevent over-grazing, and to maximize the many benefits of pasturing animals. We move cows to new feeding areas daily, as well as the chickens and turkeys.
This rotational grazing technique is something we are very proud of. Sequestering carbon from the atmosphere seems like the most hopeful thing we can do in the face of climate change.
We want consumers to know what a positive relationship can exist between livestock farming and the environment. There are lots of other animals and insects that find habitat among our pastures aside from just the animals we are raising.