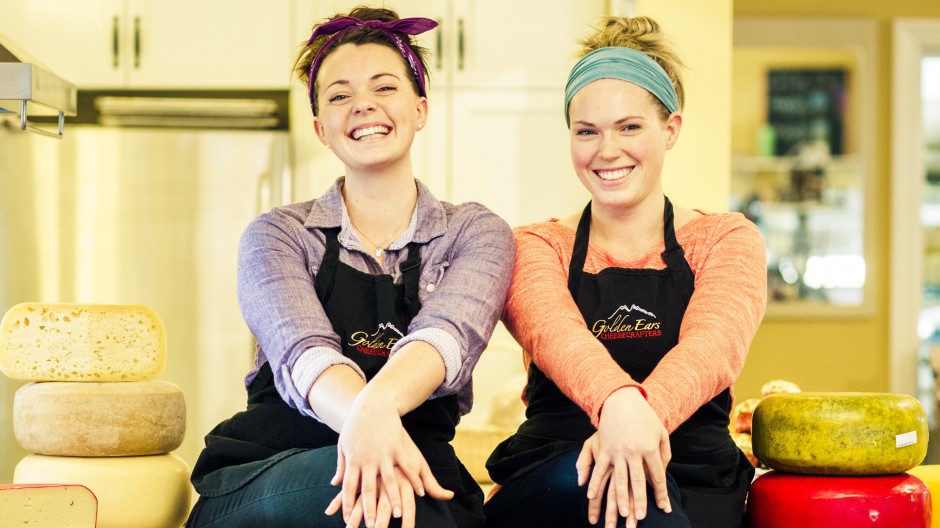 Davison Family
BC Cheesemaker
Jenna Davison is a young passionate cheese crafter who works hand in hand with her older sister, Emma Davison, in building their family business; Golden Ears Cheesecrafters. Their parents both grew up with farming in their roots and having their uncle's Jersey cow dairy farm right next door, along with their ideal location, inspired the idea for this new venture into artisan cheese.
Their family's rural Maple Ridge property has been slowly shrinking over the past century; with only 50 acres remaining, their parents wanted to do something that would keep their daughters involved in the property. They played with a few business ideas and landed on artisan cheese crafting. "This business is where I belong; it's a part of my life. I'm just a farm girl at heart, so I get to do what I really love and am passionate about." says Emma. While Jenna expresses, "I love starting with the fresh milk every morning and transforming it into several different varieties of cheeses or butter before the day is done."
Jenna is in charge of all back of house operations as Head Cheesemaker, while Emma runs the front end of Golden Ears Cheesecrafters and finds that she thrives on the fast-paced work environment. "I am definitely passionate about what I do. I couldn't ask for a better business partner than my sister. We're still ironing out all the lines and boundaries, but at the end of the day it all comes down to respecting one another. Our professions are different, but we work towards the same goal; which we both appreciate." Their family business is an accumulation of talents that bring a local food shop and bistro to their community, along with a passion for sustainability.