Adrian Arts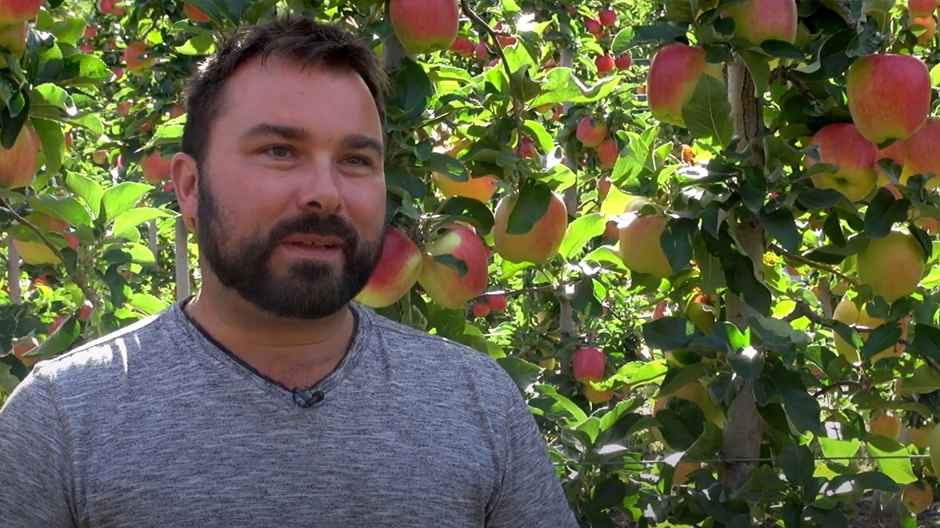 BC Tree Fruit Grower
He's considered a young gun in the Ambrosia apple growing community. Unlike most farmer's his age, he didn't come into farming by way of his family. Adrian Arts just happened into it and fell in love with farming.
We visited Adrian at his leased farm, Dabbagh Family Orchards in Summerland, BC.
Adrian shared how his education in Water Resource Science and Geology along with his experience working with the Food Bank toward food sovereignty lead to him having a passion for farming. He knew it as soon as he got his first job pruning trees as a seasonal job.
When an opportunity to lease an orchard arose a short time later, he jumped at the chance. He knew that this was what he wanted to do with his life. He also knew there would be a steep learning curve.
His fellow farmers have been there to help him out along the way. He feels like the entire community supports his goals to produce the best possible Ambrosia apples for those who love them.
With three years under his belt, his passion for growing food has not waned. The pure joy he feels as a farmer is evident as he tends to his Ambrosia apple trees and (especially) as he bites into the crispy, juice fruits of his labour. We think you should meet him.
The AMBROSIA & cross section design trademarks are used under license from Wilfrid and Sally Mennell. This profile is owned and shared with permission by NTFVDC (New Tree Fruit Varieties Development Council).